Classes incorporate years of study of many different styles of Yoga (mainly Anusara Yoga, Embodied Flow, Iyengar Yoga, and Ashtanga Vinyasa), Meditation, Yoga Philosophy, Pranayama, Ayurveda, safe alignment, Feldenkrais, Body Mind Centering, various somatic practices, free movement and dance, and a deep exploration of movement, embodiment, and life.
Each class is a unique blend of all of these influences, tailored to what will best serve the class and individual. Classes provide a platform for a soulful, personalized, and transformative exploration of embodiment, movement, and life. Most classes also include Pranayama and Meditation. Classes are suitable for all levels and ages of practitioner.
My intention is to hold space for an intimate exploration of the layers of ourselves. I hope to provide a space for you to feel free in your practice and to discover and explore your beings' intelligence and freedom.
There is no "right" or "wrong" way of moving and being. The classes provide a safe container for you to explore the depths of who you are and what feels good and whole for you.
Yoga @ The Surf Club
Twice weekly classes year round – Classes will finish for the year on Dec 13th 2019 and re-commence Feb 11th 2020
Please refer to the Beach/Foreshore schedule below to find out about daily outdoor classes from December 27th 2019 – January 26th 2020
Tuesday:  5:30 – 6:45pm   – Mixed Level
Friday:      9:00 – 10:00am – Mixed Level
Location
Apollo Bay Surf Lifesaving Club
(On the Apollo Bay Foreshore opposite the Pharmacy)
Level

Mixed level – all ages and levels welcome
Cost
$15 ($10 a class for under 18 year olds)
Beach/Foreshore Yoga
Daily classes:  Dec 27th 2019 – Jan 26th 2020
Daily:  8:30-9:30am – Mixed level
Location
Apollo Bay Foreshore Classes
Mon, Tues, Wed, Fri, Sat, Sun:  8:30-9:30am
(Meet under big tree at the Visitor's Center)
Skenes Creek Classes
Thurs:  8:30-9:30am
(Meet at the beach in front of the Skenes Creek Caravan Park)
Level
Mixed level – all ages and levels welcome
Cost
$15 ($10 a class for under 18 year olds)
Info
Please bring a beach  towel  or  a Yoga  mat.
Please email or call to find out about class cancellations or updates.
Please read our terms & conditions before you join a class or event.
I am also available for private classes, Pre/Post Natal Yoga, small group sessions, Corporate Yoga, Yoga Mentoring, and Yoga for children.
Suggestions
Some suggestions to ensure that you get the full benefits of each class:
• Try not to eat heavy foods at least 2 hours before class.
• Wear comfortable, breathable clothing (and bring a layer to wear during Savasana)
• Bring water
• Try to avoid wearing strong perfume to class as some students have allergies and are sensitive to smells.
• Please let me know about any current injuries that you're dealing with.
• Please arrive at least 10 minutes early…if you arrive late have a seat and wait quietly until the introduction is finished…you're welcome to set up your mat once the intro is finished.
• If you need to leave before class ends please leave prior to Savasana (final relaxation) and make sure you take at least a few moments on your own in Balasana (child's pose) or Savasana before leaving so that you can ground yourself before leaving.
• Please read our terms & conditions before you join a class or event.
• If you have any questions just ask :-)! Enjoy!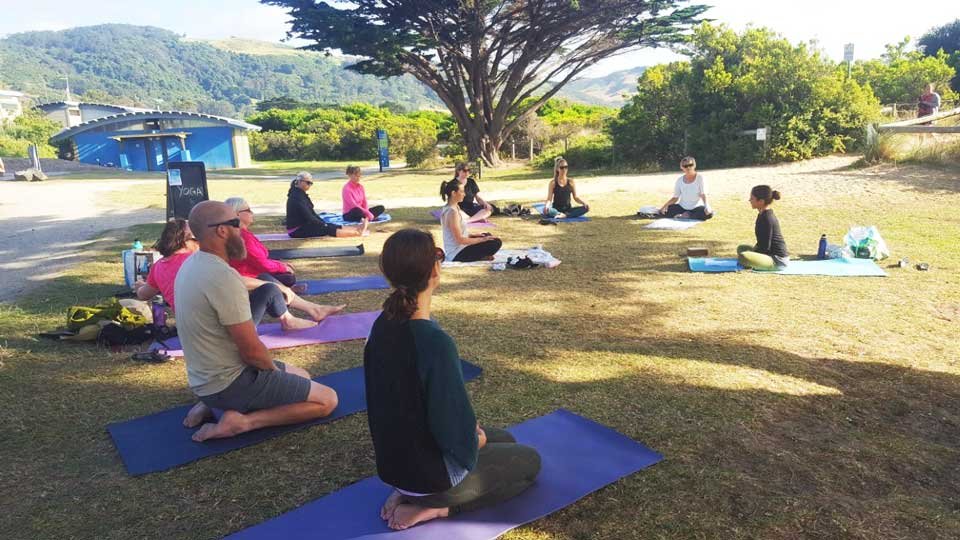 "Asanas don't have alignment, people do."
–Leslie Kaminoff
This error message is only visible to WordPress admins
Error: Access Token for apollobayyoga is not valid or has expired. Feed will not update.
There's an issue with the Instagram Access Token that you are using. Please obtain a new Access Token on the plugin's Settings page.
If you continue to have an issue with your Access Token then please see this FAQ for more information.